3 Reasons Your Website Should Be Mobile/Responsive & a way to test it NOW. For FREE.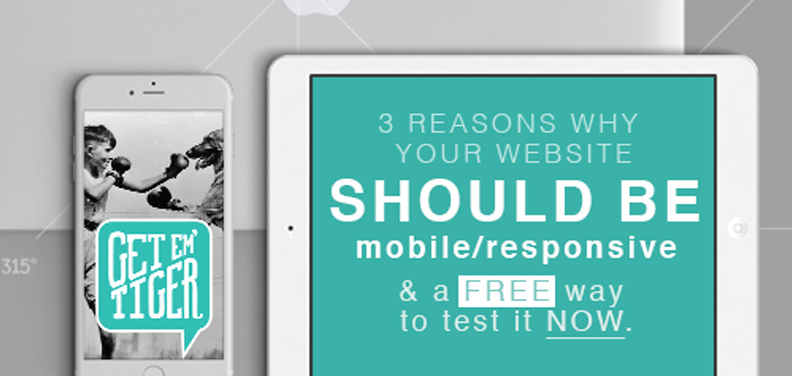 W
e love looking at a great website on a giant iMac screen just as much as the next person. But here's 3 Reasons You Need a Mobile/Responsive Website.
What does "mobile/responsive" mean?
Responsive Web design (RWD) provides your website users with an optimal viewing experience (less scrolling & clicking) on not only a phone but a range of devices (like iPads & smart tv's).
1-Better Brand Experience (make a love mark*)
Sites with RWD in mind are fluid with flexible images.
• Your text won't be too small to read.
• Your content won't go wider than the screen someone is viewing it on.
• Users can click your number & their phone automatically dials it-
•Your address when clicked instantly comes up in their GPS.
These are things users expect now & people like your brand more when you offer a satisfying mobile experience & will be more likely to revisit.
When your mobile experience is optimized it helps create trust with users.
The reverse of that is – if your site is difficult to navigate visitors are more likely to land on a competitors site. (Source: Huffington Post)
So- what's worse than people finding you & then going with a competitor?
IF THEY NEVER FOUND YOU AT ALL.
Google now factors in a website's "mobile-friendliness" as a ranking signal.
Google announced earlier this year that it was making a change to its search algorithms which now factor in a website's "mobile-friendliness" as a ranking signal – boosting the rankings of mobile-friendly pages.
Conversely, meaning that those sites which weren't optimized for smartphones' smaller screens would see their ranks signifigantly downgraded as a result.
Mobile-Friendly Web Sites Rank Better In Search
TEST YOUR SITE FOR FREE: takes under a minute
2-Most visitors will access your site on a mobile device
Since early 2014 internet usage on mobile devices exceeded PC usage by 60%.
91 percent of adults keep their smartphones within arm's reach. (Source: Morgan Stanley) That number is from 2007. Guess what the percentage is now.
25 % of Americans use only mobile devices to access the Internet. (Source: GoMoNews )
95 percent of smartphone users have used their phone to look up local information. After doing so, 61 percent called. And 59 percent visited. (Source: Forbes)
3- Mobile sites have Higher & faster conversion rates
9 out of 10 mobile searches lead to action. More than half lead to sales. (Source:SearchEngineLand) & 70% of that action lands within the hour!!! Desktop users take about 30 days (Source: MobileMarketer)
There are 6.8 billion people on the planet at present. 4 billion own mobile phones. (Source:60SecondMarketer )
There are 5x as many cellphones in the world as PCs. (Source: ImpigoMobile)
* for more about building a "lovemark" brand people will love: read