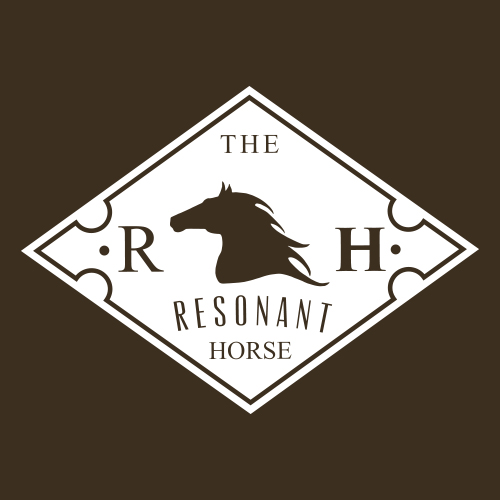 Resonant horse offers executive leadership training courses, that utilize horses in leadership exercises.
Mindy's property is also somewhat of a safe haven, and she also has customized her workshops for clients that have suffered emotional or physical trauma.
With the above in mind, we began working with Mindy on her logo design. We started with a mood board.  We wanted to create a rustic feel. We studied Ralph Lauren Barn Interiors (livable farm luxury), Equestrianism, and the large iron custom gates that surround such property. We also researched other strength based leadership coaching platforms.
Services Received

We looked at photography of Mindy's world champion horse Vuitton. We sketched his silhouette- mane blowing peacefully. This is based off one of Mindy's lessons. We surrounded it with strong diagonals, in an East West diamond. It fits magnificently in the environments mentioned above.
The website design needed to showcase the property, animals and Mindy. We wanted users to land on the site and feel like they "have to see it for themselves".
We travelled to Philadelphia to experience the Emerson novel-worthy barn, capture photos, and help with Mindy's up & coming TED talk presentation. The header images are full screen, so you get a glimpse of the barn, and area. Typically on business website we post a lot of profile images of people. On TheResonantHorse.Com the majority of the profile images we posted are amazing animals. We are excited to keep the design coming as this site grows. 
 
CLIENT TESTIMONIALS
Working with Becka and Max  was not only incredibly professional, but their creativity is unmatchable. Their ability to envision what is best for their clients, and to make it happen is inspiring. I would highly recommend them for any and all types of projects.