 Paul in particular is a very diverse man, while he is recording his next album, and writing his next book,  he is spear heading a philanthropic initiative to help someone in need. That seems a good way to describe his typical week.
All the things we have learned about Paul over the years- we take them into account when designing for his ministry. Facts about Paul: he studied under a cantor and is affluent in Italian Opera.
Disney (DISNEY) invited Paul to do a performance (where they created set design, art direction etc).
 We will never forget- one of the former websites we did for Paul- we programmed a map that showed people live, viewing the site as a dot. The whole world lit up. It is a great metaphor for Paul's life. He lights up the world.
Services Received
Web Design
Graphic Design
Marketing
Social Media
Print
Video
For the photos of Paul- we wanted a masculine, artsy feel- but natural and compelling. We found Miguel Emanuelli who's work is almost Rembrandt esq.
We also utilized Miguel's photos for our album artwork design. We created 6 panels of design for resting place, a CD recorded in Nashville specifically for Partners of Paul Wilbur. We incorporated blue tones to keep it relaxed and modern and featured hedges and highways, Nodding to the fact Paul is always on the road, and always on the move.  We also designed Paul's new album revive & Forever Good and look forward to art directing the next upcoming albums.
The website features a customized online store with over 70 items. The store is upgraded to an ecommerce platforms with options such as product reviews, coupon codes, and individual accounts for users. The website handles everything from inventory to product weight dimension and shipping.
We converted videos to HTML 5 for smooth play back, and responsiveness, without look of third party's like YouTube or Vimeo.
We knew Nathan (Paul's son) loved the new Apple website design. Specifically the images how Ethereal their environmental screen savers are. So we sought out a cinematic Director of Photography in Israel and found Michael Hilsden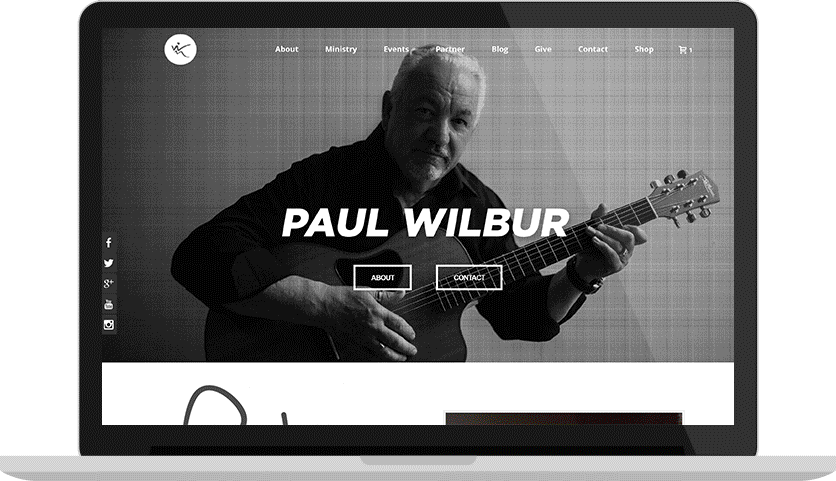 The main custom home banner design only changes when a HUGE initiative or campaign is launched.
We also designed an EPK section. The electronic press kit is password protected and includes items such as  highlight reels, high resolution approved photography, band info, stage plots etc.
 After looking over Google Analytics (heat maps, and end user flow) for several months on the old site, for this new re-launch we condensed down to popular pages with parallax banners and clean text.
CLIENT TESTIMONIALS
I was first introduced to Get em Tiger from a friend who suggested they could do a better job than they had time for. When I set up an appointment to speak, Get em Tiger insisted on meeting face to face for the best way to get a better understanding of me, the ministry and our goals. I knew right then these would be the right people for the job. They spent many hours looking through old material and making suggestions on how we can improve our face to the world in both design and graphic artwork. I was impressed that they didn't just come in, dump the 'old stuff' and move on. They wanted to understand where we have been. In the end, not only did they exceed my expectations with the finished product but two years later we launched a new site, full of the latest features. I can't speak more highly of this company owned dynamic duo as they are both very professional and fun to work with. 
– Nathan Director of Wilbur Ministries